I'm glad you're here. I discuss "How Do You Julienne Carrots" in this article. This simple to use instructions will teach you how to julienne carrots like a pro. We can help you with everything from selecting the appropriate instruments to honing your skill.
Introduction:
Learning how to julienne carrots🥕 is a fantastic place to start if you want to improve your culinary skills and add flair to your dishes. The French word "julienne" describes a method of slicing produce into strips that are as thin as matchsticks. It's a method that not only makes your vegetables cook more quickly and evenly, but also looks impressive.
From selecting the appropriate tools to honing your technique, we'll walk you through the steps of how to julienne carrots🥕 in this article. So gather your carrots, and let's begin!
How Do You Julienne Carrots : Watching This Video 
Tools You'll Need:
Let's first discuss the tools you'll need to correctly julienne carrots🥕 before moving on to the steps:
A sharp knife will do the task, whether it's a santoku or a chef's knife🔪. A dull knife🔪 will complicate the task and can result in uneven cutting.
Cutting board: A sturdy surface is necessary for slicing carrots.
Peeler: You'll need a peeler to remove the carrot's skin.
Mandoline slicer (optional): Using a mandoline slicer helps speed up and simplify the process of julienning carrots.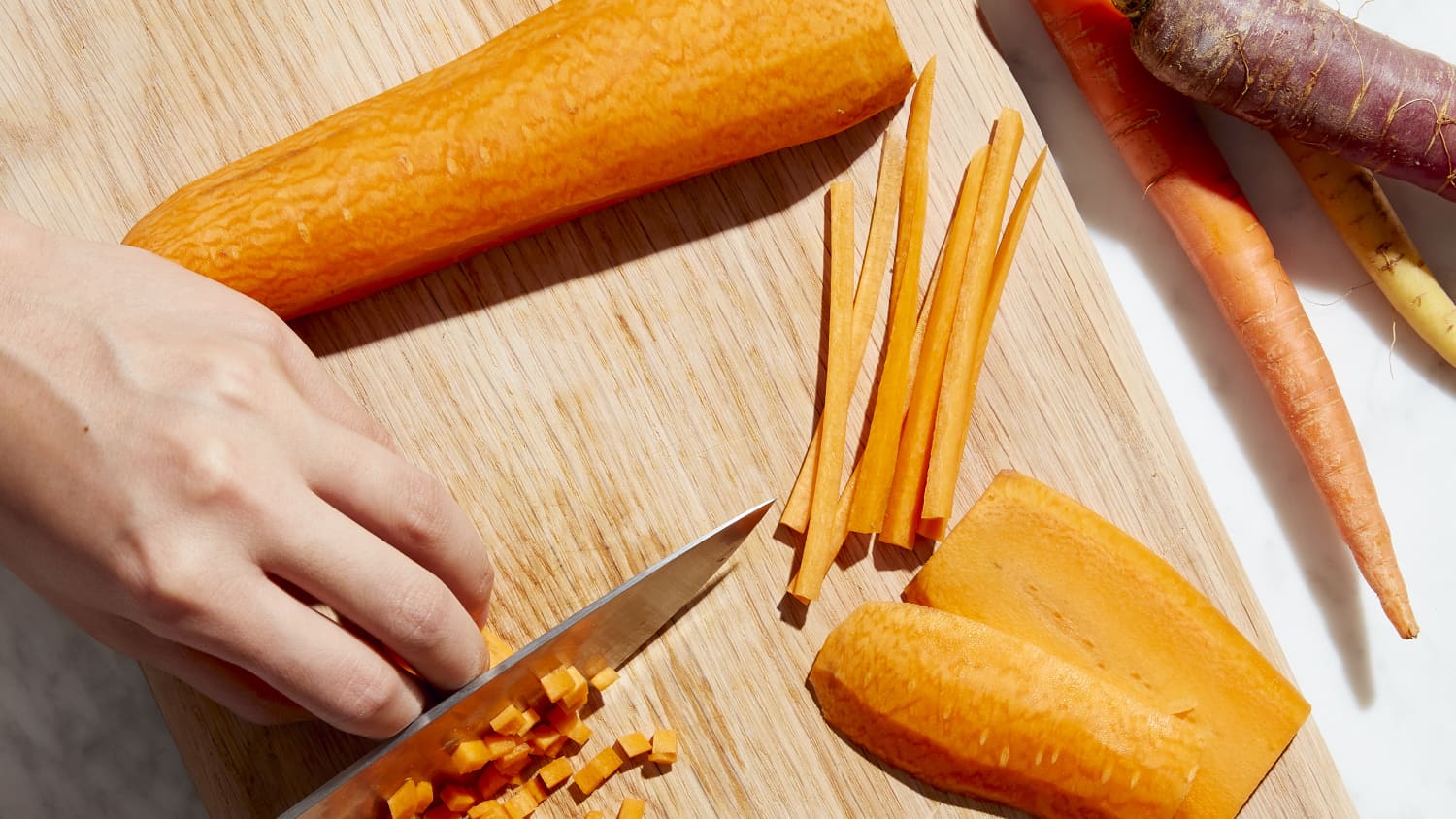 Steps to Julienne Carrots:
1: Prepare the Carrot
In order to get rid of any dirt or debris, rinse the carrots🥕 under running water.
Peel the carrot's🥕 skin off with a peeler. You can forego peeling a thin, sensitive carrot🥕.
To make a smooth surface, trim the carrot's top and bottom.
2: Cut the Carrot into Matchsticks
On the cutting board, firmly grasp the carrot.
Cut the carrot🥕 in half lengthwise using a sharp knife🔪.
Slice each half lengthwise into thin strips by placing the flat side of each half on the cutting board.
Try to make your strips about 1/8 inch wide.
3: Check the Consistency
Check the uniformity of the strips after cutting them. They ought to be roughly the same size.
Trim the strips with a sharp knife🔪 if they are excessively thick or uneven.
To achieve consistency when using a mandoline slicer, adjust the thickness.
4: Julienne the Carrots
After the strips are uniform, lay them on top of one another.
Using one solid grip on the stack, cut the pieces into thin matchsticks with a sharp knife🔪.
Look for matchsticks that are about 2-3 inches long and 1/8 inch broad.
Step 5: Use the Julienned Carrots
Carrots🥕 can be used in a variety of cuisines after being julienned.
To add texture and taste, add them to salads🥗, stir-fries, soups, or stews.
These work well as dishtops or garnishes as well
FAQS
Any tips for enhancing the flavor of julienne carrots?
Before adding julienned carrots to your recipe, think about letting them sit for a short while in a solution of vinegar, salt🧂, and sugar to enhance their flavor. This will enhance the flavor and provide a dash of tang.
Can I julienne other vegetables besides carrots?
Yes! The same method may be used to julienne other vegetables🍆, such as bell peppers, zucchini, and cucumbers🥒.
Is it necessary to use a mandoline slicer?
No, it's not required, but it can speed up and simplify the job.
Can I julienne carrots ahead of time?
You can julienne carrots in advance, but to keep them fresh, it's better to keep them in the refrigerator in an airtight container.
What does it mean to julienne carrots?
Julienning is the practice of slicing produce into uniform, thin matchstick shapes. Carrots🥕 are sliced into 2-3 inch long, thin strips that are about 1/8 inch thick when you julienne them.
Why julienne carrots instead of simply slicing them?
Carrots🥕 that have been julienned make for a more aesthetically pleasing presentation and guarantee even cooking. The carrot🥕 strips cook uniformly due to their regular size and shape, producing a consistent texture and flavor.
What tools do I need to julienne carrots?
You'll need a sharp chef's knife🔪 or julienne peeler to julienne carrots🥕. Also necessary are a robust vegetable peeler and a chopping board.
Additional FAQS of How Do You Julienne Carrots
How do I prepare the carrots before julienning?
Peeling and cleaning the carrots🥕 should come first. Cut them into manageable lengths of 4-6 inches after trimming the ends.
What is the best technique for julienning carrots with a knife?
Cut the peeled carrot🥕 into rectangular shapes before julienne-slicing it with a knife🔪. After that, cut each rectangle into thin planks along its length. The planks should be stacked before being thinly sliced lengthwise.
Can I use a mandoline slicer to julienne carrots?
Carrots🥕 can be julienned using a mandoline slicer with a julienne blade attachment. To get clean, even cuts, set the required thickness and guide the carrot over the blade.
How thin should the carrot strips be for julienning?
The ideal thickness for julienne carrot🥕 strips is approximately 1/8-inch. This thickness ensures that the carrots🥕 cook evenly and maintain a pleasant crunch.
Are there any safety tips when using a knife to julienne carrots?
To avoid injury, it's important to use caution when handling a knife🔪. Always keep your cutting surface stable and use a sharp knife🔪. To protect your fingertips from the blade while gripping the carrot, curl them inward.
Can I julienne carrots without a knife or peeler?
Yes, you can use a julienne peeler if you don't have a knife🔪 or peeler. With the help of this specialist instrument, you can peel carrots🥕 in thin strips thanks to its sharp teeth.
How can I store julienne carrots?
It is essential to use julienned carrots🥕 right away to maintain their color and crispness. To store them, though, put them in an airtight container or a resealable bag and keep them in the fridge for up to 3 days.
What dishes can I use julienne carrots in?
Carrots🥕 can be cut into julienne and added to salads, stir-fries, spring rolls, soups🥗, and stews as garnishes. They provide any culinary preparation a vivid touch and a delicious crunch.
Conclusion:
According To me, julienning carrots🥕 could initially look difficult, but with the correct equipment and methods, it's really fairly easy. You'll be able to julienne carrots🥕 like a pro in no time by following the instructions provided in this article.
To attain the ideal matchstick-like shape, keep in mind to select a sharp knife, utilise a stable cutting board, and aim for consistent strips. And remember to store your julienned carrots🥕 correctly to keep them fresh.
Thank You for visiting our site :- carrotguides.com