We're glad you're here. I'll discuss about "How to Prepare Carrot🥕 Cake🎂" in this article. With the help of this step-by-step tutorial, you can prepare a delicious and moist carrot🥕 cake🎂 from scratch. Find out how to make your cake's🎂 texture and flavour ideal, and wow your family and friends with your baking prowess.
Introduction:
According To me, A traditional dessert like carrot cake🎂 is ideal for every celebration, including weddings, birthdays and weekend treats. This cake🎂 is delicious, flavorful, and simple to make because it is made with grated carrots🥕, spices, and a thick cream cheese icing. We'll demonstrate how to bake a delectable carrot🥕 cake🎂 from scratch in this post, along with some pointers for enhancing the taste and texture of your cake🎂.
How Do You Make Carrot Cake : Watching This Video 
Ingredients
The following components are required to prepare a traditional carrot🥕 cake🎂:
2 cups all-purpose flour
2 teaspoons baking powder
1 1/2 teaspoons baking soda
1 1/2 teaspoons ground cinnamon
1/2 teaspoon ground ginger
1/2 teaspoon ground nutmeg
1/2 teaspoon salt
4 large eggs
1 1/2 cups granulated sugar
1 cup vegetable oil
1 teaspoon vanilla extract
2 cups grated carrots (about 3 medium carrots)
1 cup chopped walnuts (optional)
Instructions
In order to prepare your carrot🥕 cake🎂, follow these steps:
Set your oven's temperature to 350°F (180°C). Prepare two 9-inch round cake🎂 pans with oil and flour.
Mix the flour, baking powder, baking soda, cinnamon, ginger, nutmeg and salt in a medium bowl.
With an electric mixer, beat the eggs🥚 and sugar in a large bowl for two minutes, or until they are light and fluffy.
Beat the egg🥚 mixture vigorously after adding the vegetable oil and vanilla essence.
Add the flour mixture gradually while beating the egg🥚 mixture on low speed until barely blended.
Once everything is properly blended, stir in the grated carrots🥕 and chopped walnuts (if using).
Between the prepared cake🎂 pans, distribute the batter equally.
A toothpick put into the centre of the cakes should come out clean after 30-35 minutes of baking.
After 10 minutes, remove the cakes from the pans and allow them cool fully on wire racks.
Tips for Perfecting Your Carrot Cake
For the finest taste and texture, use freshly shredded carrots🥕.
Avoid overmixing the mixture to avoid tough, dense cake🎂.
Chopped walnuts or pecans can be used for more taste and texture.
While making the frosting, use high-quality cream cheese that has reached room temperature.
Use a stand mixer or a hand mixer to combine the cream cheese and butter for a smoother frosting.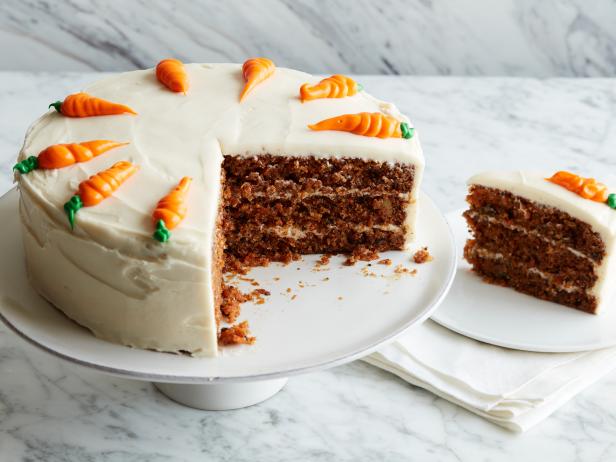 FAQs
Can I use whole wheat flour instead of all-purpose flour?
You can replace up to half of the all-purpose flour specified in the recipe with whole wheat flour. Remember that the cake's🎂 flavour and texture could vary slightly.
Can I make this cake without nuts?
If you'd prefer, you can omit the nuts. The cake🎂 will continue to taste good.
Can I make this recipe without eggs?
You can try substituting a flax egg for each egg🥚 by combining 1 tablespoon ground flaxseed with 3 tablespoons water. However, the texture of the cake🎂 might change.
Can I use a different type of flour for this recipe?
You can experiment with using whole wheat flour or a gluten-free flour combination, but the texture of the cake🎂 can change.
What ingredients go into making homemade carrot cake?
Oil, granulated and brown sugar, eggs, vanilla extract, flour, baking powder, baking soda, salt, and spices are the usual ingredients for homemade carrot🥕 cake🎂.
How do I create the carrot cake batter?
In a sizable mixing basin, whisk the dry ingredients; next, add the oil and butter; and finally, thoroughly combine to produce the batter for carrot🥕 cake🎂.
How can I make the cake moist and tender?
Use granulated and brown sugar in conjunction with shredded carrots🥕 in the mixture to make the cake🎂 soft and moist.
Additional faqs of How Do You Make Carrot Cake
For carrot cake, how should I make the cream cheese frosting?
Cream cheese, butter, confectioners' sugar, and vanilla extract should be combined and beaten until smooth and creamy to make cream cheese frosting for carrot🥕 cake🎂. Over the cooled cake, spread the icing.
Which type of oil is best for carrot cake?
For carrot🥕 cake🎂, any mild-flavored oil will suffice.
Can I make carrot cake with whole wheat flour?
Yes, you can make carrot🥕 cake🎂 with whole wheat flour. Favorite carrot cake recipe asks for whole wheat flour instead of all-purpose
Can I make carrot cake with all-purpose flour?
Yes, you can make carrot🥕 cake🎂 with all-purpose flour. If you only have all-purpose flour, you can substitute it in the popular carrot cake recipe.
Why doesn't the cake rise?
Baking soda promotes cake rising. For carrot🥕 cake🎂, baking powder is not necessary.
How can I create a delicious cake?
Add salt, cinnamon, and vanilla essence to the mixture for a delicious cake🎂.
How can I bake the cake without using a lot of expensive tools?
Without a lot of expensive equipment, the cake🎂 may be made fast. Just a few bowls and the capacity to stir items together will do.
Can I make a carrot cake without gluten?
Yes, you can make a gluten-free carrot🥕 cake🎂 by substituting your preferred gluten-free flour blend for the flour.
Can I change the carrot cake recipe?
Yes, you can make changes to the carrot🥕 cake🎂 recipe in accordance with advice from other reviewers. You may, for instance, substitute white sugar for brown sugar, reduce the amount of vegetable oil, add applesauce, add an additional teaspoon of vanilla essence, or add crushed pineapple.
Conclusion:
As per my Experience, it's not as difficult as it would seem to make carrot🥕 cake🎂 from scratch. You can quickly prepare a moist and tasty carrot cake🎂 that will surprise your guests and family with a few basic ingredients and some simple, easy-to-follow directions. This traditional dessert will be a favourite whether you decide to include nuts or not, or if you choose to garnish with more carrot🥕 shavings. Why not attempt to make your own carrot🥕 cake🎂 at home the next time you're in the mood for something sweet? Your palate will appreciate it!
Thank You for visiting our site :- carrotguides.com